The first texts found about Mas Vilar are from around 1255, and from then and on, we can read about the house in several writings about our region.
Mas Vilar is a 13th century farmhouse. It had been restored with the purpose to turn it into a guest country house, conserving the historical elements while providing it with all the modern comforts. This amazing house is located at an elevation of 590 meters, in the heart of Montseny Natural Park.
It has been equipped with an ecological system for both heating (with wood chip boiler), and heating water (with thermal solar panels). Ecological sustainability is very important to us.
The saline dechlorination pool is one of the most respectful options with the environment, and, of course, with people. The swimming pool is the best option for the hottest days.
It is located in a beautiful and large garden, ideal for a nap, to have a rest, play… while listening to the birds singing.
In Mas Vilar we love nature and animals. We have four donkeys: Fort and Valent, Catalan breed; Cleo is from Cantabria and the smaller one is Tonet. We also have some chickens and gooses in the coop, and our dogs Troya and Bruc. All of them are part of our little family.
We try to be respectful with the fauna that lives around us such as birds and bats.
The donkeys keep the surroundings clean and the chickens offer us their excellent eggs!
The garden is a big space with different areas where you can relax lying in the hammock, while your children play. You can have a volleyball match, a refreshing bath in the pool, have a rest, have a tea or vermouth on the porch, and anything you can imagine, surrounded by nature and good vibes.
When it is warm, our outside sitting room offers you a nice place in a stunning surrounding for having meals or anything from our bar service. Always enjoying beautiful views.
Once you get into the house, you can find the reception desk, where we welcome our customers.
Mas Vilar has some common areas available where you can enjoy with the company of your partner in front of the fireplace, read a book, appreciate the views, play your favourite board game… or simply, do nothing.
The indoor dining room is a space with beautiful views and very comfortable for you to enjoy our meals.
Noemí and Jaume are those who will make your stay in Mas Vilar as much as gratifying as possible.
Bruc and Troia are more than dogs; they are part of our family. They are our doorbell and welcome everybody. We tell you a bit about all of them: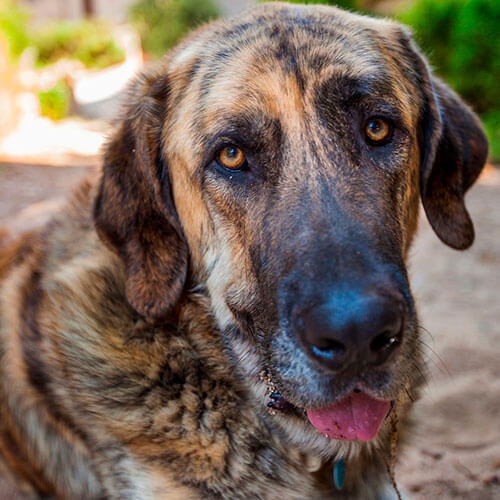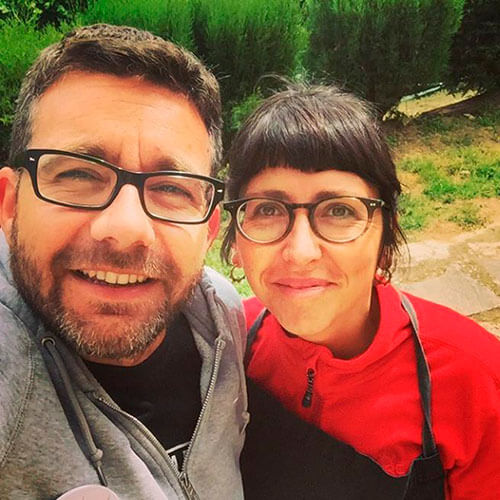 Noemí is graduated in Tourism, her passion. She loves to be in contact with customers and focuses a lot of her energy in the kitchen. She is all the time trying to improve new cooking options and always worries about serving enough food. Everybody says she is like a grandmother!
When they decided to go ahead with this adventure, Jaume though it would be difficult for him to adapt to the new situation, but it was quite the opposite! In fact, he is a versatile person and very adaptable. He is like a chameleon!
Bruc is a big dog that commands respect. In fact, is a quiet dog that loves lying on his favourite corner most of the time. He says hello and returns to his hard job: resting. Troia, however, loves people to stroke and pamper her. She is friendly with everybody.
Would you like to stay some days?
Montseny Natural Park. Carretera de Santa Fe, s/n 17401 Arbúcies, Girona. – Turisme Catalunya Registration Number Pg 00823.
We are also in social media