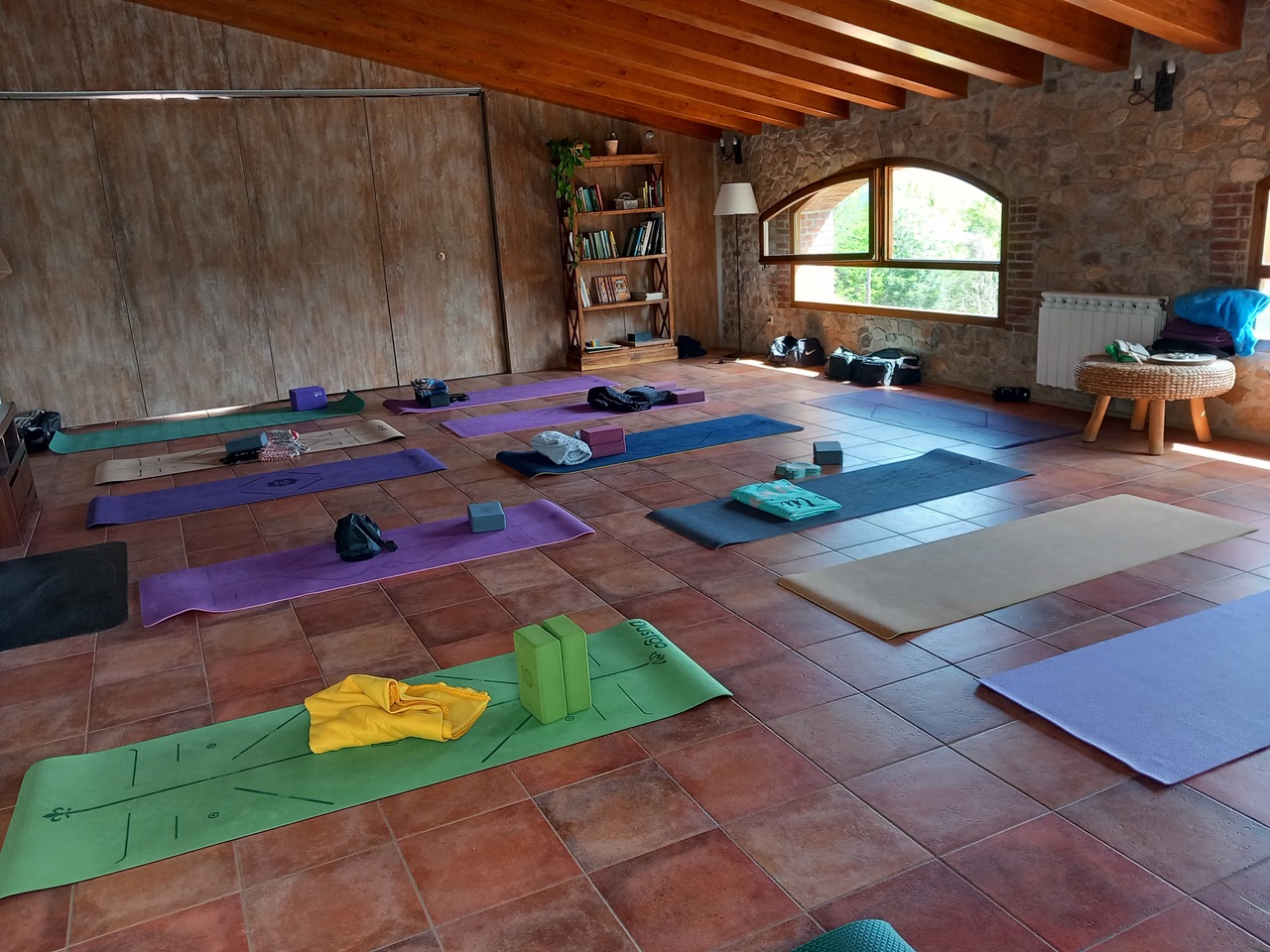 The ideal place to organize your Retreat
We know that the search for the ideal space to organize your yoga retreat, meditation, silence, macrobiotic cuisine, fermentation, personal development, ayurveda medicine, as crafts or multidisciplinary, as formations or thematic courses in the middle of nature, takes time and that is why we want to leave you some information that can help you to discover if Mas Vilar can be the ideal place to host your personal proposal and your own group.
Since we've arrived in Mas Vilar, after 13 years managing another beautiful house, we immediately saw that it was a place of peace with many possibilities to accommodate Retreats. This word meaning, as we mentioned above, there is a wide variety of activities that can fit into it.
Our idea was always to welcome people who wish to enjoy a well-kept space located in the Montseny Natural Park, where nature and silence embrace them so that everyone can develop their proposal with respect and heart.
We feel retreats as a collaboration being part of an event where people enjoy this environment and everything we can offer them brings peace of mind in getting their work objective. For 3 years we have already had several collaborations and experiences with independent professionals, companies and associations that have gave us a big value
Mas Vilar has 6 rooms with different distributions, all with private bathroom. Beautiful spaces that we adapt to your needs so that your retreat is the most comfortable and pleasant. And pet so you don't have to worry about anything but to carry out and enjoy your activities, we offer breakfast, lunch and dinner service. Our cuisine can be omnivorous, flexiterian, vegetarian or with some vegan options.
Among our spaces you will find an interior part with the dining room, where we serve meals, the work room / yoga / meditation (empty with possible adaptations) and the workshop room. Underneath we leave you some photos in the same order
Outdoors you find the saline pool, the perfect place to relax but it can also be a therapeutic space in summer and winter. In summer with sound baths or aquatic massages and in winter with cold water baths (cold
therapy)
that provide serenity and energy.
You will find a lot of landscaped spaces where you can find the ideal place for your activity that you have in mind. The two terraces also offer the opportunity to enjoy the formation/talk/workshops outdoors comfortably with the most organic soundtrack that the birds give us.
And what to say about surroundings…? Just leaving the door, we are surrounded by a wide variety of spectacular species, from the beautiful oaks, chestnut trees, holm oaks, wild cherry trees, walnuts, beeches, to sequoias that were planted by the grandparent owner of the property, who was a forestry expert and planted seeds of trees from other places in the world where he've travelled. For this reason, we currently enjoy strolling through forests as special as those we have here.
From Mas Vilar you can go for a walk or we can guide you to find places in the forest or river that become the perfect place for your group work.
What to tell you about the multiple benefits of being in touch with nature…
1. Reduce stress: Spending time in natural spaces, such as forests, helps to reduce levels of stress and anxiety, providing relaxation to the parasympathetic system. Nature has a soothing effect on body and mind.
2. Improve mood: Being in touch with nature has been shown to increase levels of happiness and improve general mood. The natural environment and outdoor activities can increase the production of endorphins, hormones associated with the feeling of well-being.
3. Increase creativity: Being surrounded by natural landscapes and away from the noise and distractions of everyday life, can stimulate creativity and the ability to solve problems.
4. Increase concentration: Studies have shown that spending time outdoors in a natural environment can improve attention and concentration capacity.
5. Improves physical health: Contact with nature promotes physical activity, which has health benefits in general. Walking, cycling or simply spending time outdoors helps to stay active and in shape.
6. Enhance the immune system: Being in touch with nature and exposing itself to the diversity it contains can strengthen the immune system
These are just some of the many reasons why contact with nature is beneficial. In addition, the connection with the natural environment can foster greater respect and awareness of the importance of protecting and preserving the environment, a fact in which we fully identify.